2016 Heli-Expo | Helicopter Trade Show & Exposition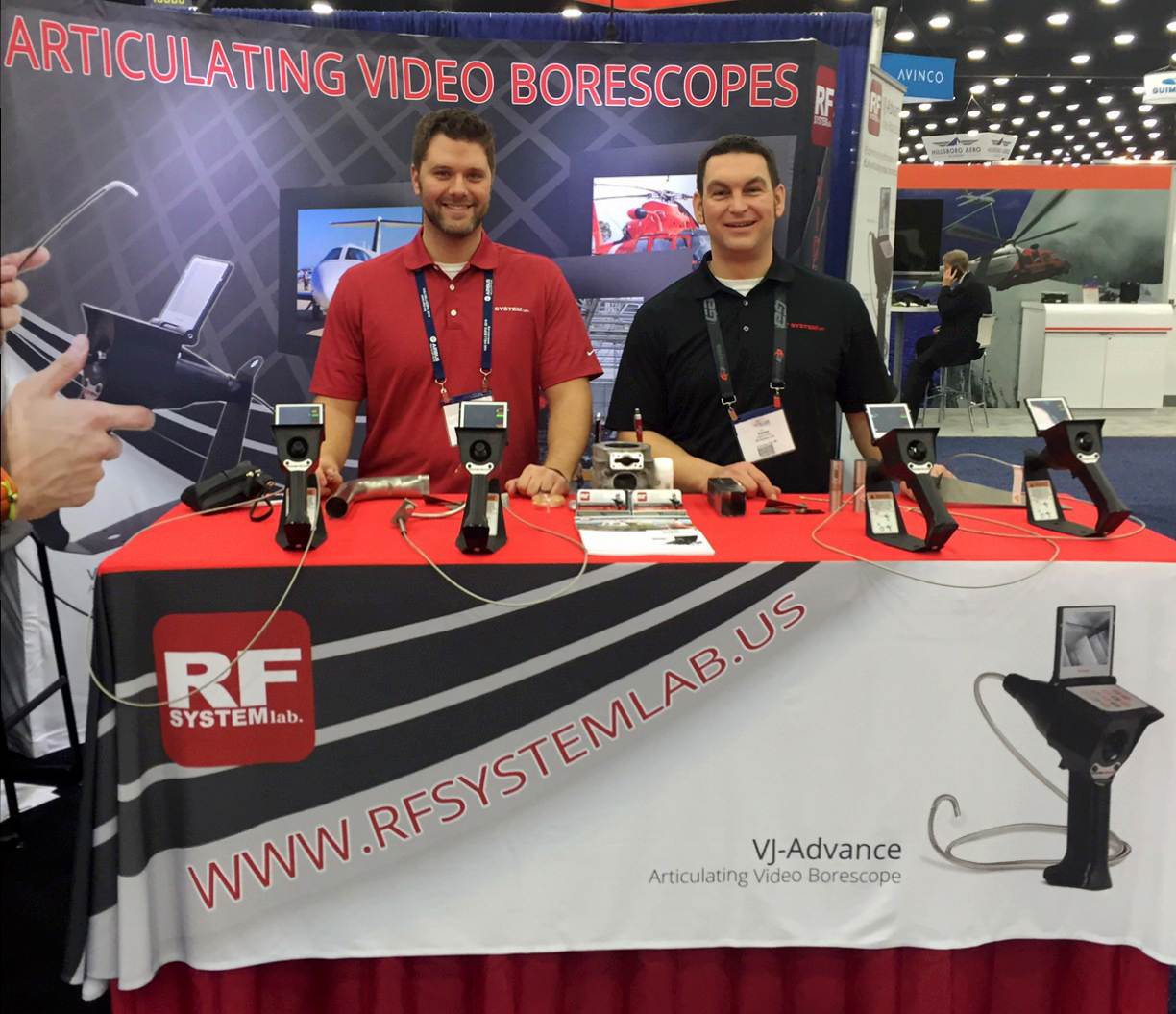 HAI Heli-Expo is the world's largest trade show dedicated to the international helicopter community. The massive 2016 event took place earlier this month in Louisville, Kentucky. RF System Lab was proud to attend for the 6th time this year and be one of over 700 exhibitors to engage with approximately 20,000 helicopter professionals. This year's event included 57+ helicopters on display, over 100 education courses, safety sessions, workshops, and forums.
Casey O'Tool and Jess Kuznicki, RF System Lab's borescope experts, were on-site to provide information and showcase to attendees, who also got a chance to experience hands-on demonstrations of the VJ-Advance articulating video borescope. O'Tool and Kuznicki are confident that our VJ-Advance video borescope can make any job easier; whether you maintain Pratt and Whitney PT6 turbines, GE 90 engines, and everything in-between, or you perform airframe component, FOD, or airworthiness inspections. Remote Visual Inspection (RVI) anywhere within an aircraft maintenance facility, or on a flight line, is never a problem with the VJ-Advance video borescope because it's battery powered, completely portable, and lightweight.
Hundreds of AMTs and aerospace technicians have chosen the VJ-Advance aviation borescope because they have found that it delivers the right mix of features, quality, and price. The ergonomic layout and pistol-grip design, makes all of the functions easy-to-use – including joystick controlled four-way articulation, photo capture, video recording, and LED brightness.
If you were unable to attend this year's HAI Heli expo, you can find highlights of the show, videos, pictures, and more at #HAI_EXPO16 on Twitter. You can also test drive the VJ-Advance video borescope with a free trial. To make the decision process easy, we offer the industry's only no-rep, no-cost, no-obligation demo program so you can evaluate the VJ-Advance line of video borescopes in your facility doing your inspections before you decide to buy.
For more information about RF System Lab and the VJ-Advance (VJ-ADV) video borescope, call us at (231) 943-1171 or visit our website www.rfsystemlab.us.