Borescopes for Chemical Processing
In chemical processing, everything hinges on quality. This is an exacting industry, where 99% right is 100% wrong. Not only is QC absolutely essential to chemical processing, it can also be very complicated, with a wide range of factors – raw material inputs, equipment calibration, environmental controls – conspiring to derail production and turn finished product into very expensive scrap.
Remote Visual Inspection – Intercept Problems
Remove visual inspection (RVI) of your processing equipment can help you intercept potential problems before they become a serious threat to your production. Our VJ-Advance video borescope is available with insertion tube diameters ranging from 2.8mm to 6.9mm, allowing you to see inside just about any piece of equipment or tubing, no matter how small the access port, without costly and time-consuming disassembly and teardown.
If you are responsible for maintenance, repair or QC involving chemical processing equipment – filters, heat exchangers, pumps, mixers, tubing, etc. – you owe it to yourself to evaluate the VJ-Advance video borescope in your facility. Our no-obligation demo program puts the burden on us to prove that you will save time and money – and improve quality – by incorporating our borescope into your manufacturing or QC process.
Demo the VJ-ADV Borescope
Click to Sign Up to Receive Your Free Demo Unit or call us at 231-943-1171, and we'll ship you a unit to try at your facility. You'll be glad you did.
Product Features
FULL COLOR DISPLAY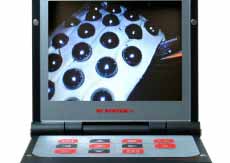 EVERYTHING YOU NEED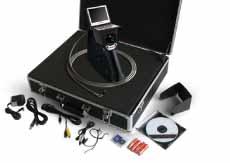 EASY TO USE JOYSTICK