We have a borescope to fit your needs
Common Borescope Uses – Non-destructive Testing (NDT) and Remote Visual Inspection (RVI)
Anyone familiar with non-destructive testing (NDT) in general, and remote visual inspection (RVI) in particular, is well-versed in the typical applications for video borescopes: aircraft turbine engines, land-based turbines for power generation, heat exchangers, gear boxes, reciprocating engines, etc. But one of the great things about being in the borescope business is that we get to learn about so many different industries and applications beyond the already well-known uses.
When you think about it, a borescope can be used on pretty much anything that has a small access port – as small as 2.8mm in diameter! When a technician or researcher wants to see the inner workings of any machine, piece of equipment or even a static item, a good borescope allows this visual examination.
There are countless other applications for modern borescope technology. If you build, operate, maintain, repair, or otherwise work on most any machinery, equipment or mechanical process, you should consider how a good video borescope could make your life easier.
Please Contact Us to Discuss Your Borescope Application.
Product Features
FULL COLOR DISPLAY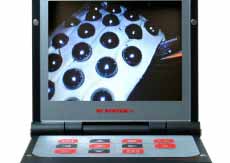 EVERYTHING YOU NEED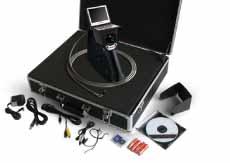 EASY TO USE JOYSTICK